2022: The year of big plans and faster connections
It's the year of the tiger and we are feeling strong here at Associated Telecom! Reflecting on the past couple of years, it has been an incredibly difficult time for us all, but we want to have a positive outlook on the year ahead. With plenty of exciting new developments planned for 2022, we're ready to pounce on every opportunity that comes our way.

From a growing team to advances within the telecommunications industry, we plan to spend the year helping more businesses than ever benefit from faster connectivity whilst supplying customers with the highest standard of customer service. Read on to find out more about what you can expect from us this year, and as always, feel free to reach out to one of our friendly team members for advice on your communication solution.
Bigger and better than ever
Last year we saw 8 new faces join our ever-expanding team, and we plan to keep on growing. We especially want to focus on our Business Development team, bringing more people on board who can help us engage with new businesses who we can help.
As more people join us, we want to make sure we continue to nurture the kind, caring and friendly community our office is known for. After moving to our new location last year, we have created an open space where we can all work together and support each other to do our best. Now that we're fully settled into our new space, we want to use this year to take things to the next level and put our plans for growth into action.
Interested in joining our team? Head to our careers page and let us know who you are and why you want to be part of Associated Telecom. We might not have any current vacancies, but if your love for tech is as strong as ours, we may be able to make space somewhere on our team!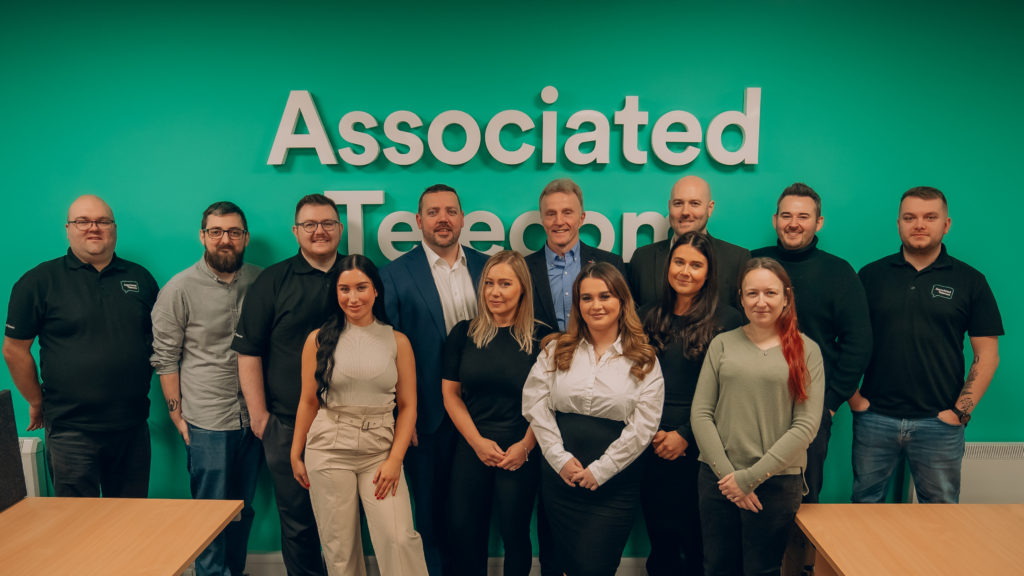 Guiding you through the VoIP transition
As the ISDN Switch Off gets closer, we plan to help more businesses transition over to VoIP. ISDN stands for Integrated Services Digital Network and has been around since the 80s, allowing us to transfer all sorts of data including voice and video. But with the network remaining relatively unchanged to this day, it's now outdated. That's why the ISDN network will be completely shut down by 2025.
So how will people stay connected when that happens? Broadband is where the future is at. Able to handle faster and larger data transfers, ISDN is going to be replaced by VoIP, or Voice Over Internet Protocol. This allows you to work from anywhere on any device, so long as you have an internet connection.
For our new customers, we will be offering VoIP services from the get-go. However, we know there are many businesses out there still using ISDN. To help you prepare ahead for the switch off, we will be on hand to lay out all your available alternatives and find the right solution that works for you.
We'll take into account everything you need to stay connected and grow your business, putting together a bespoke plan so you can avoid paying for anything you don't need. Then when it comes to your switchover date, we'll make sure everything goes smoothly to ensure there are no dropouts in your connection.
The future is 5G
As for mobile, 5G is the new star of the show. The 5th generation of mobile network, it offers faster and more reliable connectivity that's available across more areas than ever. 5G is going to take the mobile user experience to whole new levels, empowering more industries with next-generation devices and technology.
5G actually arrived in the UK in 2019, and as coverage from major trusted networks like EE, o2 and Vodafone expands throughout the country, the service will continue to get faster and more powerful. Keeping up with all the latest rollout plans, we plan to help more businesses benefit from lightning-fast 5G connection whenever available. When your personal account manager reviews your current contract and usage, we'll take a look at whether 5G is available within your area yet.
Start 2022 off on the right foot
We told you we had a big year ahead of us! If you want to learn more about the ISDN Switch Off, VoIP or 5G, then reach out to our friendly team of advisors. These developments have really got us all excited for what lies ahead and we would love to talk more about them.
We can also help you make the most of these available technologies by finding a plan suitable for your business. Our free bill analysis will look at your current plan and usage, comparing them with any potential alternatives. If your current deal is treating you well then we'll give you peace of mind that you have the best deal available. But if we think you could do better, then we'll help you switch over seamlessly so you can start saving money as soon as possible.
Let's keep your business connected and make 2022 a fantastic year!